Fast Baked Chicken Recipe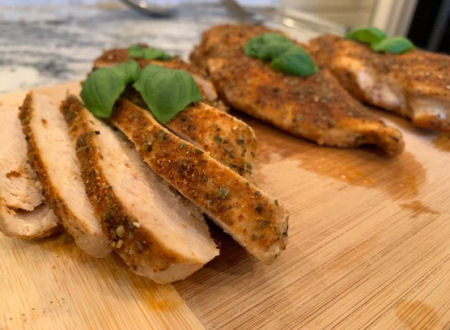 If we have worked together in the past either privately or via a group run program, you likely have prepared my "Fast Baked Chicken". It's one of my all time favorite fast go to protein dishes. Why? A few reasons actually!
The seasonings are basic – easy to find but packed with flavor
You will finish prepping the chicken before the oven has time to preheat
It only takes 18 minutes in a 450 degree oven
You can spin it into a gazillion meal options
Double it up to last the week for all those busy nights
Chop or shred & make chicken salad
Chicken Quesadillas or Burritos
Chicken Chili
Chicken Caesar Salad
Shredded Chicken Tacos in Lettuce Wraps
Topped over Your Fav Leafy Green Salad
Toss with some Lentil Pasta and Fav Veggies
Create a Chicken, Quinoa and Steamed Veggie Bowl
Slice & Wrap It (Siete Gluten Free Wraps are awesome) – load it with veggies!
My idea of meal prepping is to make extra or keep chopping and saving for the next meal. Why? It saves time and provides motivation to prepare the next meal since it's already started!
My mission is to make "The Anti-Inflammatory Way" incredibly easy for you to maintain and sustain for the long-term. Implementing these recipes will help you with getting one step closer to your health goals.
You can find the recipe here via this link – "Fast Baked Chicken".
Keep your eye out for more delicious recipes from Christi's kitchen! Clean Eating has never been so easy!!!
Keep your eye out for my "Founding Members Launch" of the Nourish UP Club. What does this mean? Stay tuned for more on how to lock in the lowest price for life!
Want more Clean Eating in Your Life? Join our Nourish UP Club community. Click below to be a member today!
This Week's exclusive Nourish UP Club Recipe:

WANT IT?
Upgrade Your Membership Today!
Here's a sneak peak –  the Reel on my Instagram page. Check it out here (click on image below) or link below it. Please give me a follow if you don't already. If you do not have an Instagram account, click on the video after the Instagram video.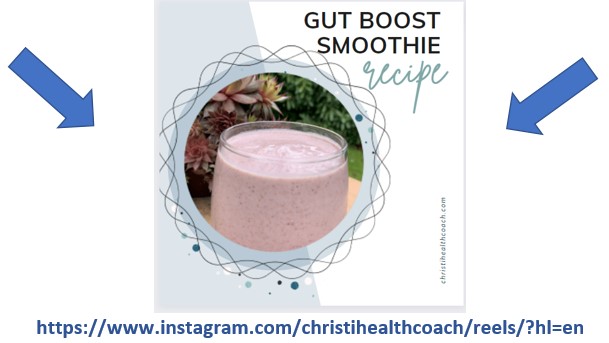 If you do not have an Instagram account, click to view the video below.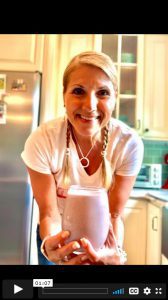 Only $27 a month! Price typically is $47 a month and is available for a limited time.

Get your 1-week FREE trial – for a limited time!

Join Here to Become a Nourish UP Club Member Today:     


Your Clean Eating Health Coach!