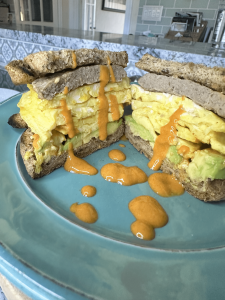 ---
---
Stacked Egg Sandwich Recipe
Yield: 1 serving
Ingredients:
1 Turkey Sausage Patty (I used Applegate Turkey Breakfast Patty)

2 Large Organic Eggs

2 Slices Gluten Free Bread

(I used Base Culture brand)

1 Tablespoon Dairy Free Butter (or Ghee)

1/8 Teaspoon Sea Salt

1 Tablespoon Nutritional Yeast

¼ of an Avocado Sliced

Optional:

1 Tablespoon Buffalo Sauce

(I used Primal Kitchen brand)
Instructions:
Warm up a small frying pan on medium heat.

Once warmed up, add the turkey sausage patty. Warm on each side for 4 minutes. Remove from pan and set aside. 

Scramble 2 eggs, sea salt, nutritional yeast, and a splash of filtered water. 

Add a few sprays of olive oil to the same pan. Pour in the scrambled eggs. 

In the meantime, add both slices of bread to toaster oven and start toasting.

Allow eggs to be half cooked and flip over like an omelet.

Once toast is done, lightly butter with vegan butter or ghee.

Layer on the turkey patty, eggs, and avocado. 

Optional:

Drizzle with a Tablespoon of the buffalo sauce. 
*Try to use all organic ingredients if possible