If you guessed, Root Veggie & Squash Soup – you get the gold star on this very fine Monday! This recipe is client inspired and when I was told about the basic ingredients, I was in!
Simple soup is the best and when you get the added bonus of it being packed with nutrients – vitamins and minerals – it's even better. Love how soup will last days and pair well with almost any meal. I tend to have it with salad mostly and it adds the extra umph to the meal!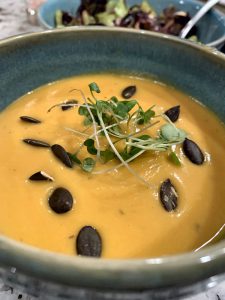 I topped mine with toasted pumpkin seeds and broccoli sprouts and it hit the spot. This will last 5-6 days in your refrigerator. Go ahead and freeze some if you can't finish it all – fast & simple heat and eat meals. Decadent and rich without any of the guilt!
Click here to view this recipe
Click here to view all recipes
Cheers To Your Health,