It's our first Nor'easter of 2021! And what better way to take it on than with a hearty and healthy Chicken Kale Chili. I have to admit, this was a recipe I crafted based off of foods I had on hand. And it became "recipe worthy" without having to make additional modifications.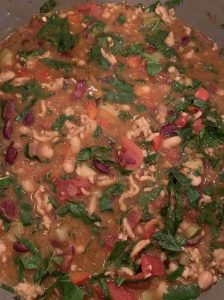 I love to serve any chili with a big luscious salad. Both will keep you full and satisfied for hours. This one is packed with protein, fiber and serves as the most perfect comfort food this time of year.
Make yourself a big pot of this nutrient rich and tasty chili. You will easily get 4-6 bowls of enjoyment out of it. Put your feet up on that ottoman, snuggle into a blanket and mindfully eat as you watch the snow come down. Enjoy every bite and take in the view – a real serene type of screen view!
Click here to view this recipe
Click here to view all recipes
Cheers To Your Health,