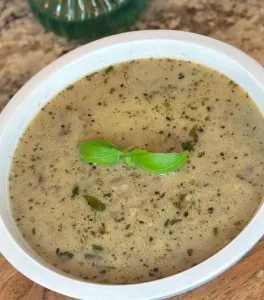 ---
---
Super Mushroom Bisque Recipe
Yield: 6 servings
Ingredients:
2 TBSP Olive Oil
1 Medium Red Onion, finely chopped
5 Garlic Cloves, minced
1 Teaspoon Dried Rosemary
1 Teaspoon Dried Oregano
1 Teaspoon Dried Basil
5 Oz. Maitake Mushrooms – Finely Chopped
5 oz. Shiitake Mushrooms – Finely Chopped
16 oz. Baby Portobella Mushrooms – Finely Chopped
6 oz. King Oyster Mushrooms – Finely Chopped
2 TBSP Tamari
2 TBSP Nutritional Yeast
14 oz. Can Unsweetened Coconut Milk
5 oz. Can Unsweetened Coconut Cream
1 ¼ Cup Mushroom Broth (or Vegetable Broth)
Sea Salt to Taste
Cracked Black Pepper to Taste
Optional: 1 Tablespoon Ghee and fresh basil
Instructions:
In a large pot, add the olive oil on medium heat. Add the onion and cook about 5 minutes, until softened.
Add in the garlic, rosemary, oregano, and basil – cook for one minute.
Next add in all the mushrooms. Pour in the Tamari. Stir until combined. Cover and allow to lightly simmer for 10 minutes. The liquid will naturally release from the mushrooms.
Next add in the coconut milk, coconut cream, nutritional yeast, broth, salt, and pepper. Stir and allow to cook uncovered for about 10 minutes.
Optional: Add 1 Tablespoon ghee to pot. Garnish with fresh basil. Another option is to blend the soup with an immersion blender – depends on your desired consistency. 
*Try to use all organic ingredients if possible