"So Much to be Thankful For!"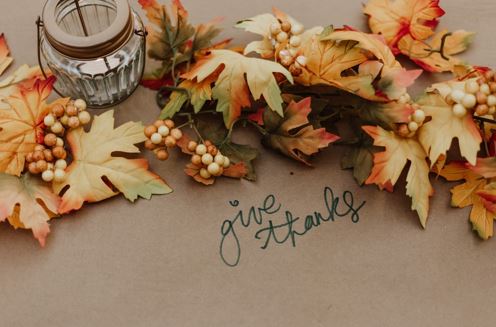 If Covid-19 has taught us anything, it has urged us to dig a bit deeper for appreciation of the smaller things. Ironically – the smaller things really are the BIGGER things – our Health is one of them. We as a society get caught up with our day to day schedules and lives and simply lose track of these essentials.
As we have been made well aware, this Thanksgiving will be like most of the other holidays of 2020. A year we will never forget! So, with all of the heartache, quarantining, mask wearing, social distancing and everything else Covid related – what should we be grateful for?
I would say for starters definitely our family – our spouses, our children, our parents, our siblings, and our friends. We have certainly spent a lot of time with our family this year and many have grown closer because of it. Thank you Covid!
Our ability to get creative is a big one! We as a society have figured out ways to navigate how to be together – yet socially distanced. Between the school systems (there will never be enough thank yous to go around for all they have done), restaurants, grocery stores, small businesses, etc. to keep some sense of normal. We as a country have figured out how to make working from home, work. Not saying it's ideal but thanks to Zoom, it can be done. We are relying on each other to make it work, making us stronger. Thank you Covid!
I can say that many people are cooking more than ever before. Maybe one too many banana bread loaves, but that's ok! Because homemade anything is better than store bought. 😊 I love seeing the creative meals everyone is crafting and enjoying the simpler things life has to offer. Thank you Covid!
We as a country are figuring out how to get creative with our exercise. From Zoom classes with a personal trainer, to many walks outside (dogs are happy), to indoor exercise bikes we are figuring out how to make it happen. If anything, Covid has opened my eyes to how important mine and my family's health truly is.  Getting regular exercise into our lives is a huge component not to just our physical health but also our mental health. We are all taking advantage of the Peloton my business gifted us with and I am truly grateful. Thank you Covid!
A few other positive take-aways… More time spent in our homes, the homes we invest in on the daily. Just enjoying our space and making the most of it. More time for self-care and having time for self-reflection was something my daughter pointed out. We need this to help lower stress and anxiety levels. And have to confess, it's been nice not having to be at the bus stop at 6:30 in the morning. Thank you Covid!
Back to the importance of health, without it – what do we have? I am one always trying to spin a negative into a positive. Covid has made me more aware and value mine and my family's health. We need to do more now than ever to protect it. Take a step back and reflect on all you are grateful for this Thanksgiving season.
What's ahead? We have Winter not too far off in the distance. We can get through this. Just remember, we have made it through the longest stretch – final stretch is not too far off in the distance.
Happy Thanksgiving to all!
I BELIEVE in you!
Need help getting started? Let's schedule a Free Discovery Call to talk about YOU and your health needs! Click here: https://calendly.com/christihealthcoach/30-minute-free-disovery-call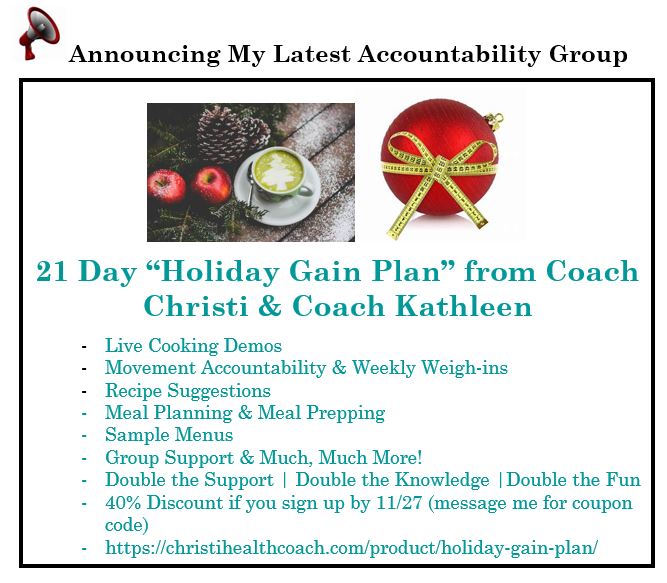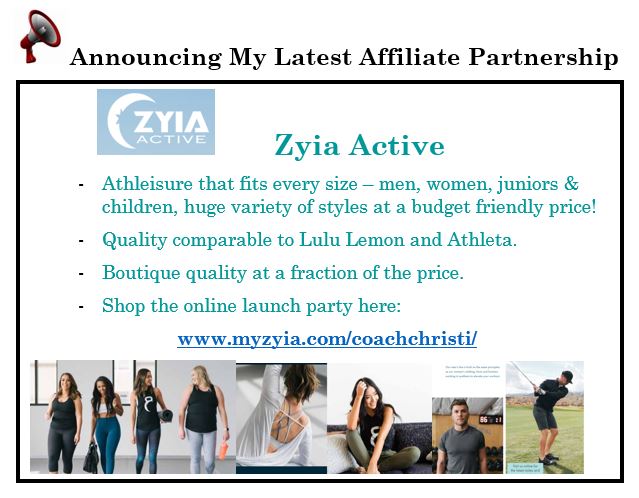 ---
Coach Christi's LATEST News:
Coming Soon:

My First Ever Online Program – 8 Week Program – Stop Suffering with Inflammation and learn to eat the Anti-Inflammatory Way. All with the added benefit of shedding some weight, gaining more energy, and getting a thriving life back!
*Projected Launch Timeframe: December 2020
Interactive Group Forum – Discuss varied topics including tips on removing inflammation, weight loss, gaining energy and much more!
*Projected Launch Timeframe: Winter 2020 / 2021
---
Click Link Below for Free Coaching Video Series
https://christihealthcoach.com/video-gallery/
---
For all the latest health topics, free coaching video series, recipes, and history of newsletters, subscribe as an Advantage Member to our WellNourish Center here.
https://christihealthcoach.com/wellnourish-center/
Cheers To Your Health,
Coach Christi