We are in the throws of a 28 Day Whole Foods Reset Group and it's going great! My participants are reaching out with how wonderful they feel – bloating is gone, feel more clear (brain fog gone), inflammation and pain is decreasing and losing some weight as a bonus.
I am always looking for a whole foods way of snacking and thought this would be the perfect fit! I was a little skeptical on how they could taste good but they were a hit. My daughter who doesn't eat chickpeas said they would be addictive, very quickly.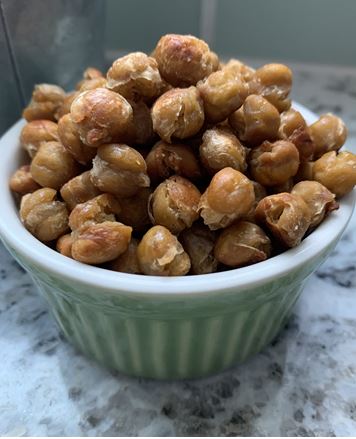 Packed with fiber and protein while boosting levels of manganese and folate. They can help lower LDL (bad) cholesterol and lower overall cholesterol numbers. Chickpeas can also help encourage improved gut health – making you more regular. 🤗
Like any snack, I always promote eating in moderation but these are a great alternative to some of those other unhealthy options and offer an awesome nutritional bang for your buck!
Click here to view this recipe
Click here to view all recipes
Cheers To Your Health,