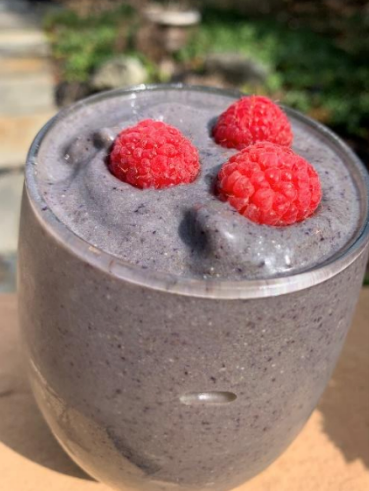 Author: Christi Davis
Recipe type: Gluten Free / Dairy Free / Vegan
Yield: 1 Serving
Shamrock Super Smoothie Recipe
Shamrock Super Smoothie Recipe
Ingredients:
1 ½ Cups Ice (add less for thinner smoothie)

1 ¾ Cup Unsweetened Coconut Milk (reserve ¼ cup for topping off)

1 Scoop Organic Vegan Vanilla Protein

1 TBSP Chia Seeds

1 TBSP Ground Flax Seeds

1 Medjool Date – Pitted

1 Teaspoon Moringa Powder or Spirulina

1 TBSP Coconut Cream

1 Cup Organic Spinach (or preferred greens)

Optional: Collagen Powder
Instructions:
1. In a single-serve blender add ice and then milk.
2. Add remaining ingredients.
3. Blend on high for about 20-30 seconds. Can blend longer for a creamier smoothie. Pour into glass and enjoy.
For a Minty GREEN Shamrock Super Smoothie:
Replace blueberries with ½ a Banana
Add ¾ teaspoon Pure Peppermint Extract
*Try and use all organic ingredients if possible.